Roll over image to zoom in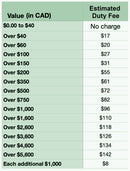 Description
This listing is for shipping to Canada and as such will likely be subject to duties and other fees that BCH has no control over. By ordering from this listing you are confirming that you understand that other fees will apply(CA fees via Fedex) beside the total shown at checkout. Please see the attached "duties" image for an estimate on additional fees
My supplier is calling these cells Sanyo NCR18650BD however all my research has netted zero evidence of a cell by that name existing. I'm open to suggestions if anyone has further insight on the model.

I believe they are actually Sanyo NCR18650BF cells based on my test results.
At 1A discharge ~90% are testing at 2.8-2.9ah
At 5A discharge ~90% are testing at 2.4 - 2.5ah
The other 10% varies pretty wildly.
We are guaranteeing these cells at 80/80
(AKA at least 80% of the cells will have at least 80% of 3.2Ah capacity at 1A discharge rate)
The cells are standard 18650 size with a button top.
The specs for the Sanyo BF cells are below (No guarantee that is what these are)
Due to the Positive side having a groove and inner Negative terminal .It is recommended to wrap these cells prior to using/charging to prevent fire or shorting.
Brand:
Sanyo
Model:
NCR18650BF
Capacity:
3200mAh Rated
Voltage:
3.60V Nominal
Charging:
4.20V Maximum
1625mA Standard
--- mA Maximum
Discharging:
2.50V Cutoff
1625mA Standard
3200mA Maximum
Payment & Security
Your payment information is processed securely. We do not store credit card details nor have access to your credit card information.