Roll over image to zoom in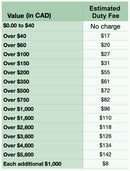 Description
This listing is for shipping to Canada and as such will likely be subject to duties and other fees that BCH has no control over. By ordering from this listing you are confirming that you understand that other fees will apply(CA fees via Fedex) beside the total shown at checkout. Please see the attached "duties" image for an estimate on additional fees.
These are unwrapped Panasonic cells, they are testing above new grade and we are guaranteeing them at 95% capacity!
Due to the Positive side having a groove and inner Negative terminal .It is recommended to wrap these cells prior to using/charging to prevent fire or shorting.
This is a rare chance to snag these cells at half the market rate, while supply lasts!
Battery Specs:
Capacity: 3400mAh
Diameter: 18 mm
Length: 65 mm 
Voltage nominal: 3.8V
Charge voltage cut-off: 4.2V
Discharging cut-off: 3.0V
Maximum Discharging Current (10 sec.): 17 Amps
Payment & Security
Your payment information is processed securely. We do not store credit card details nor have access to your credit card information.