Roll over image to zoom in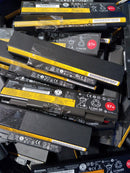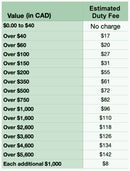 Description
This listing is for shipping to Canada and as such will likely be subject to duties and other fees that BCH has no control over. By ordering from this listing you are confirming that you understand that other fees will apply(CA fees via Fedex) beside the total shown at checkout. Please see the attached "duties" image for an estimate on additional fees.
Commercially used Laptop Batteries for Cell Recovery, these lots will contain at least 250 18650 Cells
New Stock -- We just got a new batch in from a new supplier, the new packs have a better date range (2011 - 2019) and vast majority are 2013-2015.
As stated these cells were used in a commercial environment and are in surprisingly good condition, this is an excellent opportunity to cash in on some dirt cheap 18650 cells
Payment & Security
Your payment information is processed securely. We do not store credit card details nor have access to your credit card information.