Roll over image to zoom in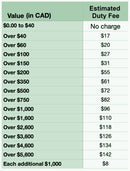 Description
This listing is for shipping to Canada and as such will likely be subject to duties and other fees that BCH has no control over. By ordering from this listing you are confirming that you understand that other fees will apply(CA fees via Fedex) beside the total shown at checkout. Please see the attached "duties" image for an estimate on additional fees.
This listing is for 144 Used A123 ANR26659M1B LiFeP04 3.3v 2500mAh Rechargeable Batteries in 3 EMC/NEC/AC Bell packs.

The cells are attached to boards as a pack, the pack is no longer usable but the cells are in good condition.
The bonus to these packs is the fact that each pack is bound by reusable 26650 spacers on both sides.

These are for cell recovery only!

These cells have our 80/80 guarantee:
"Specifically we guarantee that at least 80% of the cells will have at least 80% of their rated capacity.
ANR26650M1-B Specifications
 Nominal Ratings
  Voltage: 3.3 Volts
  Capacity: 2.5 Ah
  Energy: 8.25 Wh
  Specific Power: 2600 W/kg
  Impedance (1KHz AC Typical) 6 mΩ
  Cycle Life at 1C/1C, 100% DOD: > 4000 cycles
  Cell Type: 26650 Lithium Ion Power Cylindrical Cell
Payment & Security
Your payment information is processed securely. We do not store credit card details nor have access to your credit card information.