Roll over image to zoom in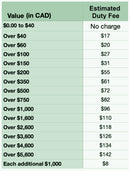 Description
This listing is for shipping to Canada and as such will likely be subject to duties and other fees that BCH has no control over. By ordering from this listing you are confirming that you understand that other fees will apply(CA duty fees via Fedex) beside the total shown at checkout. Please see the attached "duties" image for an estimate on additional fees.
Most of these are testing to good capacity although some of the wraps are pretty brittle.
These cells have our 80/80 guarantee:
"Specifically we guarantee that at least 80% of the cells will have at least 80% of their rated capacity.
Around 70% are LGDAS31865 cells and 25% are Samsung 22f cells, as usual there are some other misc 18650 models mixed in.
Payment & Security
Your payment information is processed securely. We do not store credit card details nor have access to your credit card information.