Roll over image to zoom in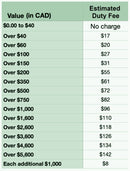 Description
This listing is for shipping to Canada and as such will likely be subject to duties and other fees that BCH has no control over. By ordering from this listing you are confirming that you understand that other fees will apply(CA fees via Fedex) beside the total shown at checkout. Please see the attached "duties" image for an estimate on additional fees.
Pack Notes:
These cells have our 80/80 guarantee:
"Specifically we guarantee that at least 80% of the cells will have at least 80% of their rated capacity.

We have not tested and are not guaranteeing the BMS units on the packs. These packs are being sold for cell recovery, not guaranteed for use as a working pack.


A lot of these packs are fairly discharged, however everything we have put on a charger has woken up and it matching cells specs besides the slightly decreased capacity previously mentioned.
Please also note that some of the wraps might be damaged due to the double sided tape on these packs (see photo). No compensation will be provided for damaged wraps.
LG MH1 Specifications:
Model: INR18650MH1

Size: 18650
Style: Flat Top
Chemistry: INR
Nominal Capacity: 3200mAh
Continuous Discharge Rating: 10A
Nominal Voltage: 3.6v
Protected: No
Rechargeable: Yes
Approximate Dimensions: 18.42mm x 64.87mm
Approximate Weight: 49g


There are 30 cells per pack, a lot consists of a single pack.
Payment & Security
Your payment information is processed securely. We do not store credit card details nor have access to your credit card information.