Roll over image to zoom in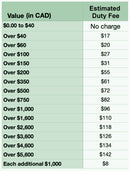 Description
This listing is for shipping to Canada and as such will likely be subject to duties and other fees that BCH has no control over. By ordering from this listing you are confirming that you understand that other fees will apply(CA fees via Fedex) beside the total shown at checkout. Please see the attached "duties" image for an estimate on additional fees.

Cells estimated good for ~80% of max capacity.
Used but in good condition, selling for cell recover only. Not for use as a pack.

Blue EVE 26V 18650  2.55Ah

Discharge Rating is 7.65A
The price is for 200 individual cells as pictured. There is no BMS on the units. 
We currently have large number of these cells coming our of a dismantling project. The battery packs come from a commercial product where one model was replaced with a newer model.
There are 20 cells per pack.  We left the individual batteries in the original pack because it has a nice layout. There are bolt holes on the bottom that can be used to secure it and it also has easy access to the cells.  
Payment & Security
Your payment information is processed securely. We do not store credit card details nor have access to your credit card information.