Roll over image to zoom in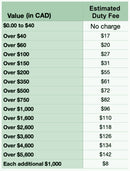 Description
This listing is for shipping to Canada and as such will likely be subject to duties and other fees that BCH has no control over. By ordering from this listing you are confirming that you understand that other fees will apply(CA fees via Fedex) besides the total shown at checkout. Please see the attached "duties" image for an estimate on additional fees.
Hot deal ! Pun intended, these are mostly the older red Sanyo cells (aka "heaters"), these cells can get pretty warm/hot when charging and discharging so please use them at 1A or lower. These are not recommended for users new to the hobby.

We have not tested these,or opened all the packs, there are no claims as to which model cells you will receive or the life left in the cells, they are being sold strictly "as is".
Over 200x 18650 cells

The models can include:
- Samsung
ICR18650-22E
- Molicel 18650

Payment & Security
Your payment information is processed securely. We do not store credit card details nor have access to your credit card information.