Roll over image to zoom in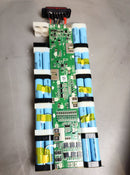 Description
 52x INR18650MH1 cells in a 48.1v pack  12.8 Ah 615 Wh   13s4p 

 Reclaimed  eBike & eScooter  Contains 52 LGMH1 Li-Ion 18650 cells in 13s4p configuration.  Packs have some cosmetic blemishes from storage.

We have meter tested to ensure all packs are resting above 15v and under 25v  but we have not capacity tested and are not guaranteeing the BMS to be functional.
These packs are "untested" and sold as-is.
------------------------------------------------------
Pack Specs
13s4p
48.1v
12.8Ah
615Wh
Cell Specs

Manufacturer
LG CHEM

Type of rechargeable battery
Li-Ion

Cell size
18650, MR18650

Rated voltage
3.6V

Capacity
3.2Ah


Body dimensions
Ø18.4x65.1mm

Maximum current
10A
Payment & Security
Your payment information is processed securely. We do not store credit card details nor have access to your credit card information.