Roll over image to zoom in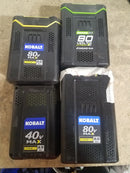 Description
This listing is for 100 high-drain VTC3 cells in tool battery packs. We have these cells in a variety of tool packs, pack size not guaranteed, only the cell amount.
The photo is reflective of generally how the batteries will be shipped, for the most part the packs will not be complete and it is common for the BMS to NOT be functional.
Each pack has been tested to ensure that it has at least 50% its rated voltage.

EXTREMELY LIMITED QUANTITY

These lots are being sold AS-IS.
This is a one time shipment, when they are gone they are gone for good.



Brand:
Sony
Model:
US18650VTC3
Capacity:
1500mAh Rated
Voltage:
3.70V Nominal
Charging:
4.20V Maximum
1500mA Standard
--- mA Maximum
Discharging:
2.50V Cutoff
300mA Standard
1200mA Maximum
Description:
Green Cell Wrapper
Black Insulator Ring
18650 Form Factor
Payment & Security
Your payment information is processed securely. We do not store credit card details nor have access to your credit card information.